Headphones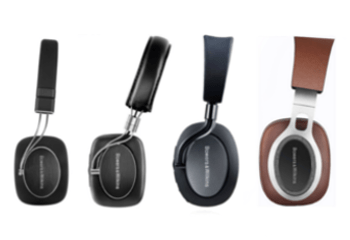 Bowers & Wilkins arguably build some of the greatest loudspeaker units in the world, a statement backed by a massive variety of awards and 5-star reviews on products spanning from the company's entry-level 600 series speaker models all the way up to the world renowned Diamond series.

B&W apply the same level of integrity, expertise and philosophy to their headphone models, reflecting the signature 'Bowers & Wilkins sound'; a warm, full response with precise and well delivered detail. There are three models in B&W's range of headphones and as the price increases, so does the size of the driver and the overall size of the unit. With this increase in size, the driver is able to deliver a more powerful and precise sound response. But even with the smallest model, B&W's dedication to replicating a true representation of the original sound source is evident.
Regular Price: £149.00

Special Price: £119.00

Regular Price: £249.00

Special Price: £119.00
Regular Price: £229.00

Special Price: £179.00

Regular Price: £249.00

Special Price: £198.00

Regular Price: £329.00

Special Price: £229.00
Latest reviews for
Headphones
Average Rating :
Total Reviews:1
Its Good
Very very good headphones. looks and feels like real quality. I got the RC ones but you couldn't tell - they were perfect. Tried listening to my old headphones for comparison. the sound in thE old ones was very soupy. lots of muffled bass compared to the clear crisp bass of the B&W's. The carrying pouch for the ivory coloured ones is a bit girlie. thats my only criticism and also the leads feel very flimsy. I use them in the workshop cutting metal and it scares me a little but on the plus side - they can easily be replaced. a feature I have never seen before!