Wireless & PC Speakers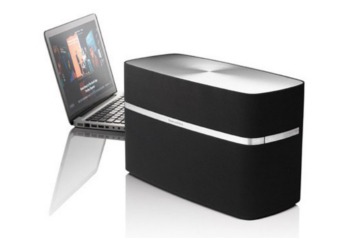 Bowers & Wilkins are one of the most renowned hifi loudspeaker manufacturers in the world. The UK-based company have redefined standards in both traditional/passive loudspeaker markets and in active wireless/computer loudspeakers too. Bowers & Wilkins saw superlative success with the release of what is considered to be the first premium iPod dock; the Zeppelin. The Zeppelin was then re-imagined as the Zeppelin Air, a better sounding, AirPlay wireless option, and most recently - The Zeppelin Wireless, which sees higher quality components and even more wireless connectivity options.
Bowers & Wilkins developed a range of other active speakers to accompany the Zeppelin Air/Zeppelin Wireless, each with their own benefits and purposes.
Regular Price: £699.00

Special Price: £429.00
Latest reviews for
Wireless & PC Speakers
Average Rating :
Total Reviews:1
Superb Quality And Price
There are already countless of professional reviews on the A7 on the internet. I really can't add to them. I was a little nervous of buying a re-certified product at first, but now I have it I am extremely happy. The quality is faultless and I'm comforted that B&W have given it thorough review before allowing it for re-sale. Apart from the different box it is as good as brand new. But better than that it is almost two hundred pounder cheaper that the RRP. It really is a great bargain. The A7 sounds huge and has fantastic power and clarity. The set up (via the app) took minutes and was so simple. I love everything about it. The icing on the cake was the great service by HiFi Gear. A totally flawless transaction. Can't recommend this product and HiFi Gear enough.