AV Receivers & Controllers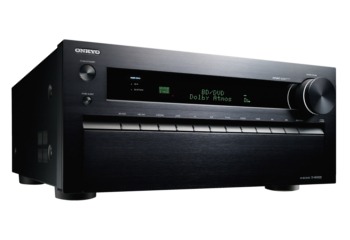 Onkyo build and develop some of the most highly regarded AV receivers on the market today, being one of the few brands who focus on sound quality and functionality without compromising on either aspect. The company's range of home-cinema hubs are built into a variety of price points, meaning there's a unit for everyone, and each of these units in each of these price categories tend to win awards and hearts alike.
Regular Price: £2,499.00

Special Price: £1,499.00
Latest reviews for
AV Receivers & Controllers
Average Rating :
Total Reviews:1
Bags Of Power And Facilities
Onkyo have had a habit of producing a lot of award winning amplifiers in the past few years and have a range to rival any of their competitors. In the high end series you have 3 potential options I chose the middle model to trail out for a few weeks and to see what you get for £2000. Design & Construction Now for the boring part, as you would expect the TX-NR3010 comes with a host of connections and no less than 9 HDMI inputs and two outputs, so you shouldn't have problems wiring in your multiple high definition devices. The speaker options are many with the main system being a 9.2 channel amp (& for all you people who don't think that's enough you have an 11.4 analogue output to fulfil your entire home cinema needs) & 160 watts per-channel will be more than ample to power your speakers. As with most AV receiver's you have a range of networking options to make it the hub of your entertainment such as internet radio, last.fm & Spotify & with the ability to play all of your flac & apple loss less files quality music is just a fingertip away. Performance When it came to giving this a good I try out I decided to attack it on three fronts, 1-Bluray 2-Gaming & 3 music streaming. BLU-RAY On the blu-ray front I went with star trek and from the opening volley of shots I was blown away with the power, the base was hard but but with no loss detail dealing exceptionally well with a difficult start. Where the amp really came into it's on was the first warp jump the dynamics were mind blowing, I was expecting to lose a little of the detail but it was composed & controlled. GAMING On the gaming front I went with my favourite game Mass effect 3, this has the feel of summer blockbuster with massive movie sequences & intense game play , from the sharpness of the dialog in the attack on earth to the massive base drops of the reaper attack the onkyo dealt with the dynamics beautifully. In solid game play the separation of gun fire & vocals was tight & clear with a layer of depth I hadn't heard on my previous amp. MUSIC/2 CHANNEL When it came to music I listened to Linkin Parks 'a thousand suns' this was a little more experimental and cutting edge and used numerous genres but I find it really does test most systems. In the track 'waiting for the end' the amp makes the most of the rip soaring ballad, the verses are subtle with great depth & explode with chester's massive chorus. When it comes to the harsher 'wretches & kings' again the amp deals with harshness & power with confidence. Conclusion As I said in the beginning there are a lot of high end amps on the market, and at this price point you would expect a lot for your money and I'm happy to say at the Onkyo delivers on almost everything. The amp has no problem with power, but it's how it controls that power that really impresses, no matter the input. Detail is not the sharpest out there but with the right speakers and set up its no issue.