Power Amplifiers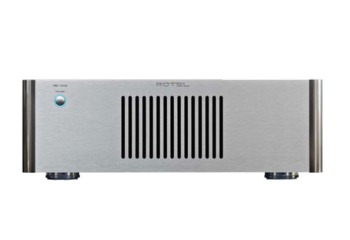 Rotel have over half a century's worth of experience in designing, developing and constructing audio equipment to the finest standards, retaining an affordable price and impressive performance. Rotel design and construct everything from the core components to the finished products themselves, in their own factories under their own high standards of quality control. This category focuses on Rotel's range of highly capable 2 channel and 5 channel power amplifiers.

Latest reviews for
Power Amplifiers
Average Rating :
Total Reviews:1
Blown Away By The Quality Of This AMP
I just purchased this Power Amplifier from HI FI Gear for £795 & I can't begin to tell you how impressed I am with this model. I have an old pair of B&W floor standing Speakers DM 604 S3, they are a nightmare to power. My old NAD power amp gave up the ghost 2 years ago & I have had no amp for 2 years, I finally found a mid range power amp with the muscle to power my B&W Pair with plenty of muscle left in reserve. These 250 watts at 8 ohms effortlessly power the most stubborn of speakers. I just matched them with the Audiolab 8200 CDQ that I got for an amazing price of £875 from Vickers Hi Fi, they Complement each other perfectly. At the moment I am streaming music from my pc connected to my sony Bravia TV via HDMI ,connected to the Audiolab CDQ via spidif fiber optic ,connected to the Rotel Rb 1572 connected to the B&W DM 406 S3 speakers. I am amazed just how good Google play actually sounds when powered properly. I played a CD of Madonna's True Confessions on the Audiolab CDQ, the speakers started eat into the floor the bass was amazing the true flow was brilliant. The CDQ has no BASS, No TONE, No TREBLE, the sound you get out of the CD is how it was supposed to sound. I streamed the Crystal Method Album Tweekend through Google-play, the quality of the stream-Sound, made Madonna sound like a rank amateur. I am a very happy bunny, ;) Streaming movies or just watching TV with this amp & Preamp set up is an absolute joy. Sound quality over Bluray will blow you away,forget surround sound amps they suck, go for this instead you won't be disappointed.