Club Orpheus Range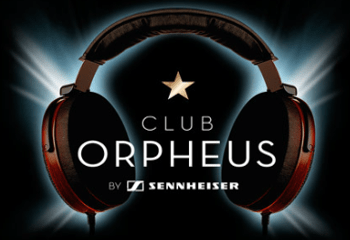 The prestigious Club Orpheus range from German headphone masters; Sennheiser features the company's most prestigious and well-regarded models to date, including the exemplary flagship HD800.
Regular Price: £429.00

Special Price: £295.00
New

Regular Price: £1,598.00

Special Price: £1,145.00
Latest reviews for
Club Orpheus Range
Average Rating :
Total Reviews:3
Dynamics, Detail And Realism In Abundance
If you really want the best in door headphone experience possible, dig deep into your wallet and treat yourself to a pair of HD800's - there's nothing to touch them in my opinion.
Musical And Punchy Sound
Very happy that I purchased the IE800's, sound is way better than any other in ear phones I tried, a great investment.
HD700 Review
Sennheiser HD700 Headphones The HD700 headphones from Sennheiser are beautifully built, (as one would expect from such a highly prestigious manufacturer) and are an excellent choice for any home-audio enthusiast looking for a pure high fidelity sound. Comfortable The first thing to note about the Sennheiser HD700 headphones is the exceptional amount of comfort they provide. I was sat in the demo room for just short of four hours and I experienced no discomfort; this impeccable comfort almost leads you to forget that you're even wearing them. This comfort, combined with exceptionally clear sound quality makes it sound as though the artist you're listening to is in the room with you, performing exclusively for your amusement. Performance This is evident by how clearly pronounced vocal sounds are through the HD700's; in some instances, the moisture and airflow of words being sung by the artist is felt as though they were whispering into your ear, and really provides the illusion that you're having a one-on-one session with that artist. Switching to a dubstep song showed that the HD700's handle frequency shifts without a stitch, high frequency synthesiser riffs in conjunction with deep and distorted bass notes were no issue for these headphones, both sides of the spectrum are audibly displayed brilliantly without one over-powering the other. To test the headphones the best I could, I decided to play one of my own songs, having had a major input in the production, mixing, engineering and performing of the recording – I knew what to look for. I was immediately surprised at how clear the HD700s made the rain-fall sample we used, to the point that it actually brought a an even more emotional and atmospheric feel to the song than I'd previously noticed using a pair of HD25-1's during the production process. The HD700s simply brought a clarity and definition to my song that I had not previously experienced. Leakage The headphones do leak an immense amount of audio (as is expected from a pair of open-back headphones) and are not recommended for use in public places; unless you wish the entire train or bus to listen to your music with you. This leakage enables the drivers within the headphones to move airflow more freely however, assisting in providing a more accurate sound. The headphones also use a 6.3mm connection, and no 3.5mm adapter is included. This makes the temptation to annoy people on the train slightly harder, as you'd have to either purchase an adapter or lug your amplifier with you. These headphones are certainly not meant to be portable, and are designed for the home-audio enthusiast, as opposed to the on-the-go commuter. Conclusion The HD700s are exceptional, and although they don't quite present an accurate sound recreation to the degree of the HD800s, these headphones do produce an impressive clarity and detail that is otherwise hard to come-by with other headphone makes and models.