Sonos TV & Home Cinema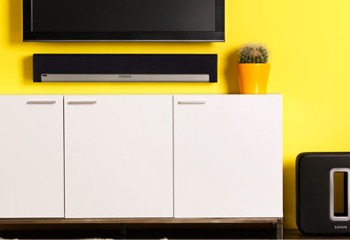 While the Sonos speakers are phenomenally well-suited for music, they also provide an equally as impressive sound for films, tv shows, video games and more. Sonos' Playbar sits perfectly below your television, either on a stand or wall-mounted, and will connect with all other Sonos speakers in the same zone. You connect the Playbar to the television by a simple optical cable.
When paired with the Sonos SUB and a pair of Play:1 or Play:3 speakers (for the rear channel), Sonos will provide a heavily immersive sound with clear vocals, thick dynamics and liquid bass, all the while retaining the Sonos philosophy of flexibility and high fidelity. Because of this philosophy, the performance of a full Sonos AV set-up rivals those ini ts price category and higher.

Latest reviews for
Sonos TV & Home Cinema
Average Rating :
Total Reviews:1
Very Good TV Sound, And Extra Sonos Zone For Free
My Panasonic TV sound was very poor in quality, so I jumped at the chance when I heard about the new Playbar. I already had 3 zones of Sonos for music, and new I have another via the Playbar. Set up was child's play, and the extra bass depth and voice intelligibility on TV sound makes this one of the best tech equipments I have purchased. Fast delivery from Hifi Gear too.