iPhone/iPod Speaker Docks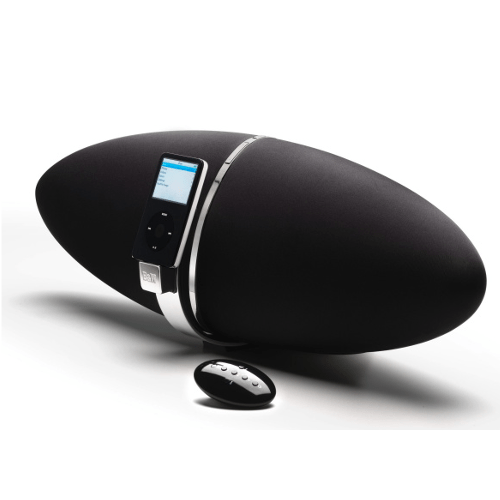 iPod speaker can be a great addition to your iPod - sure listening using headphones is great when you are out and about, but when you get home it's nice to dock your iPod so it can charge it's battery, and then select some music to play whilst you relax for the evening.
Regular Price: £199.00

Special Price: £129.00
Regular Price: £269.00

Special Price: £229.00

Regular Price: £449.00

Special Price: £298.00
Regular Price: £499.00

Special Price: £329.00
Latest reviews for
iPhone/iPod Speaker Docks
Average Rating :
Total Reviews:3
Superb Quality And Price
There are already countless of professional reviews on the A7 on the internet. I really can't add to them. I was a little nervous of buying a re-certified product at first, but now I have it I am extremely happy. The quality is faultless and I'm comforted that B&W have given it thorough review before allowing it for re-sale. Apart from the different box it is as good as brand new. But better than that it is almost two hundred pounder cheaper that the RRP. It really is a great bargain. The A7 sounds huge and has fantastic power and clarity. The set up (via the app) took minutes and was so simple. I love everything about it. The icing on the cake was the great service by HiFi Gear. A totally flawless transaction. Can't recommend this product and HiFi Gear enough.
This Machine Was A Phenomenal Unit At £329; Compact, Versatile And Complete With Impeccable Bowers & Wilkins Signature Sound. At The Newly Adjusted Price Of £169 However, This Unit Is An Absolute Blinding Purchase.
Update: This review was written when the Z2 was a fairly new product and had a price of £329. With a recent price adjustment, you can now pick up a brand new Bowers & Wilkins Z2 for phenomenal £169; at this price, the Z2 is a blinding purchase. Review by Stephen Goode of Hifi Gear When Jamie (Hifi Gear Manager ) asked me to review the B&W Z2, I was more than delighted; having been a Zep fan for quite some time and have been itching to get my hands on the Z2. The Z2 is similar in design to its original iPod 30-pin connected cousin, the Zeppelin Mini. However, sonically it takes the B&W docking station range to an entirely new level. In the few ways the Zeppelin Mini slacked, the Z2 has made up for it. I first decided to assess the Z2 using Ben Howard's 'Call Me Maybe' cover for Radio 1 Live Lounge, I wanted to see how the system handled songs with a more 'human' feel, as the majority of the instruments used for this performance were traditional (guitar, cello, drum kit, etc). As soon as the introductory cello began to play, the atmosphere of the demo room where I was listening changed instantly. The Z2 filled the room with a big and ambient low-end bass sound that almost seems impossible to achieve from such a small machine. The Z2 brings a bright and delicate amount of high-end to Ben's voice, and handles the blend between the low frequency cello/bass sounds. At one point during the performance, the artist lets out a sly chuckle; this, along with the sound of moisture on his lips at harsh sounding letters, and the breaths between these points is brought across almost flawlessly by the B&W Z2. I briefly forgot I was listening to a live recording (albeit a very well recorded live recording). Next in my playlist is a slightly more up-beat song by Paloma Faith, titled "Stone Cold Sober". Again, the Z2's delicate and bright vocal response is evident, almost giving the illusion that you're actually in the vocal booth with her. The kick drum is thick and punchy, and (in my opinion) is a carrying element for the entire song. The Z2 clearly agrees with me on this and brings it forward with just the right amount of low end for it to be audible, but not excessive/too loud. The remaining instruments (including harmonised vocal) are easily audible too, right down to the tambourine in the background of the chorus, which I had not noticed until writing this review! The Z2 takes this energetic and excited song, and gives it a shot of pure metaphorical caffeine. To truly test it's abilities, the next song to be played from the Z2 is an electronic dance track titled 'Bytesize', produced and created by U.K. EDM artist; 'Akio'. This track possesses a variety of different extremes, ranging from thick and deep, sub-wrenching bass, to pretty and fragile sounding synthesiser riffs. The Z2 doesn't handle the bass quite as well as an up-market subwoofer would, but it still manages to comfortably juggle these elements with the higher elements without any recognisable noise/distortion. Again, each element of the track is clear and detailed; the video-game samples used in the song are clearly understandable, despite the momentous amount of thick instrumentation below them. The song also features a number of volume dips, in certain elements (namely the crunchy bass/synth riff), these sections of the song show the Z2's impressive volume range and how easily it handles quick changes in volume and compression. To end the assessment, I played one of my favourite Kids In Glass Houses songs; 'Artbreaker I'. The song begins with an instrumental introduction, being played through a high-pass filter/EQ, which through some systems can sound distorted/'walkie-talkie-like' beyond the desired amount. The Z2 is not one of these systems. It handles the effect competently (although, not quite as well as the Zeppelin Air), and aids to create the strong and 'hyped-up' drop the band set out to create. During the main parts of the song, instrumentation is again handled well against each other. The song is upbeat and heavy, so a lot of things are going on at once. The Z2 allows you to audibly detect these 'things' alongside each other, whether it be the meaty bassline riffs against the shiny and quick electric guitar riffs, or the crisp—clear snares and high hats against the astonishing group vocals. In conclusion, the Z2 is an extremely competent and musically intellectual piece of kit, and is able to deliver everything you would want from a docking station/airplay device. It does however, marginally lack a proficient sound-stage/stereo-field (especially when compared with the Zeppelin), although considering its neat and compact size – this is both understandable and forgiveable.
Lovely Looks And Top Quality Build And Sound
My friends reaction to my new A5 was OMG, I'm so jealous! The sound quality of the A5 is every bit as good as I'd hoped, and the quality feel and build justifies the price. Fast delivery from Hifi Gear.