Home Cinema & Soundbars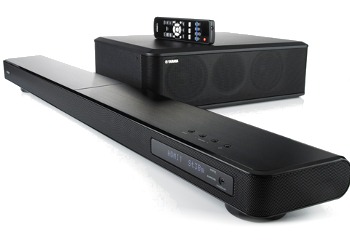 In order to form an immersive and memorable movie viewing experience at home, you're going to need to rely on an external set of components, and not the very basic loudspeakers your television will most likely possess. As TVs have become thinner and thinner, unfortunately, so has the sound element of these sets. Picking the right television for picture quality is essential, but when it comes to sound - it's better to go with a set of stereo speakers, a full surround sound package, or a dedicated soundbar/sound-base.
We have a large number of soundbars and sound-bases on display here at HifiGear, as well as a number of different surround sound packages and AV receivers to suit every budget. If you're interested in experiencing a full surround sound set-up, or wish to to see exactly how much of an improvement a soundbar makes; give us a call on 01432 354921 and book a demonstration at a time convenient for you.
http://www.hifigear.co.uk/on-demonstration/home-cinema-soundbars.html
Regular Price: £799.00

Special Price: £697.00

Regular Price: £1,199.00

Special Price: £949.00
Latest reviews for
Home Cinema & Soundbars
Average Rating :
Total Reviews:1
Very Good TV Sound, And Extra Sonos Zone For Free
My Panasonic TV sound was very poor in quality, so I jumped at the chance when I heard about the new Playbar. I already had 3 zones of Sonos for music, and new I have another via the Playbar. Set up was child's play, and the extra bass depth and voice intelligibility on TV sound makes this one of the best tech equipments I have purchased. Fast delivery from Hifi Gear too.