Wireless & Multiroom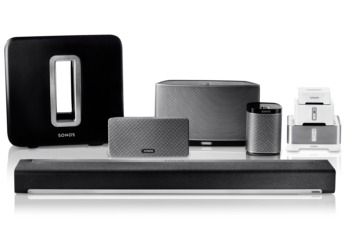 This What Hifi Awards subcategory features award-winning wireless/multi-room products from the official What Hifi Awards categories of 'Wireless', 'Wireless Speakers & Docks' and 'Multiroom' from both the 2013 and 2014 awards.
Regular Price: £299.00

Special Price: £180.00

Latest reviews for
Wireless & Multiroom
Average Rating :
Total Reviews:3
Brilliant Sound Quality
Having loved my Sonos system I was naturally a bit dubious as to whether the Mu-so would be worth the extra expense - I needn't have worried, from the first track it blew my Sonos Playbar away! Still like the Sonos but this is very close to hi-fi quality. Looks the part too, with a beautiful curved grille and aluminium casework which shouts quality.
Sonos Beater!
Upgraded to the ND5XS from a Sonos Connect - similar functionality but leagues ahead in sound quality!
Very Good TV Sound, And Extra Sonos Zone For Free
My Panasonic TV sound was very poor in quality, so I jumped at the chance when I heard about the new Playbar. I already had 3 zones of Sonos for music, and new I have another via the Playbar. Set up was child's play, and the extra bass depth and voice intelligibility on TV sound makes this one of the best tech equipments I have purchased. Fast delivery from Hifi Gear too.