Uniti Series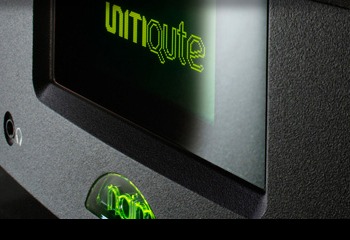 Our Uniti range of products combine high-end hi-fi performance with extensive digital audio functionality. They offer convenience and versatility whilst reproducing music with all the pace, rhythm, timing and clarity a Naim badge demands. And they do it all from a single, elegant enclosure. Just add speakers.

The first product in the range was NaimUniti, a player which literally rewrote the rules for high-end hi-fi performance, picking up numerous awards and spawning an entire range of all-in-one streaming products on its way. This formula of simplicity and performance informs the design of every Uniti product. Whether you want the compact power of UnitiQute 2 the ultimate performance of SuperUniti or the slimline simplicity of UnitiLite, there is an option in the range to suit your needs. The UnitiServe hard disk player/server completes the UnitiSystem proposition. Its custom-designed ripping engine creates bit-perfect copies of your CDs and stores them, either on its 2TB internal hard drive or on separate network-attached storage, making them available for playback over the home network

Regular Price: £3,785.00

Special Price: £3,149.00
Latest reviews for
Uniti Series
Average Rating :
Total Reviews:4
Pricey, But Worth It
Bit the bullet and replaced my Western Digital NAS with the UnitiServe - really superb user interface, very simple for the whole family to use, and I can honestly say our music never sounded so good.
The Real Audio Deal
A once in a lifetime purchase for me , but delighted with both sound quality and superb build quality. Very pleased with the musical performance with my Proac D30R speakers.
Great Sound Quality And Controlability
A really great sounding one box system which gives little if anything away to a fully separates hifi system. Love the nStream app for controlling Uniti 2, very responsive and loads of usful features.
I've Just Entered 21st Century Quality Hi-f-
I added the UnitiQute 2 to my tradition two channel system of CD, amp and speakers, and now I listen mostly to Spotify, and the sound quality and range of music is mind blowing.