Sonos Play Speakers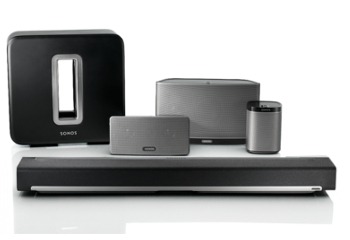 The Play speakers from Sonos are the company's wireless stand-alone speaker units. The consist of the Play:1, Play:3, Play:5 and the Playbar & SUB.
The Play:1 is a compact single driver and tweeter speaker with a sound much larger than its enclosure. The Play:1 can be used as a mono speaker, or teamed up with another Play 1 to act as a stereo pair. Despite its discrete appearance, the Play:1 will have no trouble filling most rooms and thrives in smaller to medium sized acoustic environments.
The Play:3, which consists of two bass/midrange drivers and a tweeter module between them, can also be used as a stand alone speaker unit or put two together and use them as a stereo pair. The Play:3 can be placed horizontally or vertically and the speaker will adjust its sound depending on its current orientation. The Play:3 is also a very compact and discrete speaker, making it great for use within a smaller/medium sized kitchen or bedroom.
The Play:5 has one large woofer in the center, with two smaller bass/midrange drivers either side and two tweeters above the midrange drivers. When these five speaker units are combined, they enable the Play:5 to deliver a full and rich sound with impeccable detail.
The Playbar has been designed to provide textured and well-detailed high fidelity sound for television systems. The Playbar pairs up with other Sonos units flawlessly as a multiroom music source, or using a stereo pair of Play:1s/Play:3s - as a fully immersive surround sound home cinema set-up. The Playbar will bring your Blu-Rays, Xbox games, favourite films and TV shows to a new level of life.
The Sonos SUB is a simple, one-button set-up subwoofer, designed to take some of the strain off the Playbar by handling all of the lower frequencies to allow the Playbar to focus on the midrange and higher frequencies. The Sub provides a deep, liquid-like bass response with an exceptional level of clarity. It's highly flexible in terms of placement, as it can be put anywhere in the room for the same effect; you can even lie it down flat beneath your sofa.


Latest reviews for
Sonos Play Speakers
Average Rating :
Total Reviews:1
Very Good TV Sound, And Extra Sonos Zone For Free
My Panasonic TV sound was very poor in quality, so I jumped at the chance when I heard about the new Playbar. I already had 3 zones of Sonos for music, and new I have another via the Playbar. Set up was child's play, and the extra bass depth and voice intelligibility on TV sound makes this one of the best tech equipments I have purchased. Fast delivery from Hifi Gear too.