Networked Audio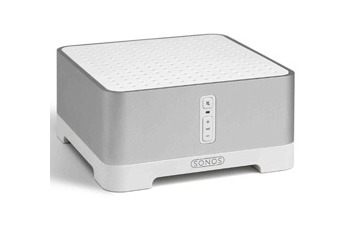 Most music lovers these days have music stored on their PC or laptop, if only to feed and refresh their iPod via iTunes - so why not liberate this music further around your home?
Music streaming devices enable you play this music in any room you wish, even via your TV! Not only music can be streamed via broadband, photos, internet radio and often You Tube are available at the touch of a button, without the need to install a network of cables around your home.
In the UK Sonos is the most popular streaming solution, and available at a great price, often with special Sonos deals available. Choose the Sonos Connect amp and a pair of speakers and you are ready to go! Or a Sonos Connect will feed an existing hi-fi amplifier and speakers.
Always try to allocate some of your budget for good qualityinterconnecting cables for best sound quality. For advice & information on streaming devices, please see our article "How to stream media from your Apple idevice" on our blog.

Regular Price: £299.00

Special Price: £184.00

Regular Price: £199.00

Special Price: £184.00
Latest reviews for
Networked Audio
Average Rating :
Total Reviews:4
Pricey, But Worth It
Bit the bullet and replaced my Western Digital NAS with the UnitiServe - really superb user interface, very simple for the whole family to use, and I can honestly say our music never sounded so good.
Sonos Beater!
Upgraded to the ND5XS from a Sonos Connect - similar functionality but leagues ahead in sound quality!
Very Good TV Sound, And Extra Sonos Zone For Free
My Panasonic TV sound was very poor in quality, so I jumped at the chance when I heard about the new Playbar. I already had 3 zones of Sonos for music, and new I have another via the Playbar. Set up was child's play, and the extra bass depth and voice intelligibility on TV sound makes this one of the best tech equipments I have purchased. Fast delivery from Hifi Gear too.
Excellent Sound Quality
As you'd expect from Arcam, the rBlink is a very well-built little unit, with a small, discrete design, comprising a solid aluminium case with a rubberised bottom panel. Having the outputs one end (a coaxial and stereo RCA) and the power, aerial & Bluetooth sync button the other makes it easy to slip into most systems without getting in the way, unless you are syncing multiple devices to it on a regular basis. Performance Set up really couldn't be simpler and takes about 5 minutes to unbox, connect and get music playing. Having tried the rBlink on my home system, I found the sound performance to be great from a Bluetooth device running 128khz (which I have always found to be a little flat in the past). Just picking out a few random tracks, a little lack of detail and pace was the only thing I could criticise, but nothing to upset me understanding the source. Wiring into the Arcam A19, you can lose the separate power supply and run directly from the amp. Now using the aptX at 320kps was a different revelation; the sound running from a pair of KEF R300s was excellent. No jitter or lack of detail was noticeable; the depth of sound was remarkable for Bluetooth and as good as hard-wiring in any similar device. With rich low tones, detailed mid-range and clear high tones, the rBlink delivers sound remarkably, and even when using a 128kHz source - the bass is still solid with just a minor drop off of detail. Verdict If you use the rBlink to its full capabilities you will be nothing but blown away. The quality when used on a decent set up is exceptional, offering everything you'd want and more from a wireless option. When using a standard Bluetooth signal the sound still impresses and holds together well. So if you are looking for a Bluetooth adaptor for any system, you cannot go far wrong with this smart addition to the Arcam family.