Hi-Fi Amplifiers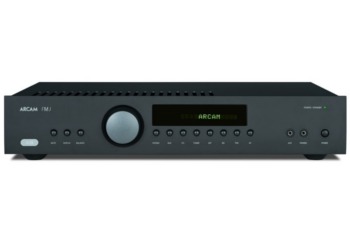 The amplifier is the heart and soul of your hifi system and is the component responsible for taking a source signal and presenting it to your loudspeakers. Amplifiers typically come in three formats; a power amplifier, a pre-amplifier and an integrated amplifier. The power amplifier, as the name suggests, is the muscle responsible for powering your dedicated loudspeakers, while the pre-amplifier is the brain of the system, featuring inputs for your source components to pass this information, along with volume control, to the power amplifier.
An integrated amplifier features both the power amplification and preamplification elements combined into a single box solution. This offers a high fidelity experience with the convenience of taking up less space than a separate pre/power system, but as with anything hifi - the more separate you can get the boxes, the more they are able to focus on one job alone and perform to a higher standard. In most cases, a pre-power system will outperform an integrated system at a similar price point.
In addition to these formats of traditional amplifier, more and more headphone amplification units are being designed and engineered by quality brands as the demand for high-end personal audio increases. A headphone amplifier works much in the same way as an integrated amplifier designed to power speakers but is designed specifically to cater to the impedance levels of a designated pair of headphones.
A 'phono-preamp', also known as a phonostage, is a small component designed to sit between a hifi preamplifier/integrated amplifier and a dedicated turntable. Because the signal that the phono cartridge of a turntable picks up is so quiet, connecting a turntable directly to an amplifier via a line input will mean that you have to turn the volume up extremely high to hear anything from the deck. This will also sound distorted and over work the amplifier. A phono preamp/phonostage will bring the cartridge signal to 'line level' and make it compatible with the integrated amplifier's line inputs. Phonostages come in Moving Magnet and Moving Coil variants, depending on the cartridge being used.
Regular Price: £169.00

Special Price: £149.00
Regular Price: £199.00

Special Price: £179.00

Regular Price: £299.00

Special Price: £184.00

Latest reviews for
Hi-Fi Amplifiers
Average Rating :
Total Reviews:5
Blown Away By The Quality Of This AMP
I just purchased this Power Amplifier from HI FI Gear for £795 & I can't begin to tell you how impressed I am with this model. I have an old pair of B&W floor standing Speakers DM 604 S3, they are a nightmare to power. My old NAD power amp gave up the ghost 2 years ago & I have had no amp for 2 years, I finally found a mid range power amp with the muscle to power my B&W Pair with plenty of muscle left in reserve. These 250 watts at 8 ohms effortlessly power the most stubborn of speakers. I just matched them with the Audiolab 8200 CDQ that I got for an amazing price of £875 from Vickers Hi Fi, they Complement each other perfectly. At the moment I am streaming music from my pc connected to my sony Bravia TV via HDMI ,connected to the Audiolab CDQ via spidif fiber optic ,connected to the Rotel Rb 1572 connected to the B&W DM 406 S3 speakers. I am amazed just how good Google play actually sounds when powered properly. I played a CD of Madonna's True Confessions on the Audiolab CDQ, the speakers started eat into the floor the bass was amazing the true flow was brilliant. The CDQ has no BASS, No TONE, No TREBLE, the sound you get out of the CD is how it was supposed to sound. I streamed the Crystal Method Album Tweekend through Google-play, the quality of the stream-Sound, made Madonna sound like a rank amateur. I am a very happy bunny, ;) Streaming movies or just watching TV with this amp & Preamp set up is an absolute joy. Sound quality over Bluray will blow you away,forget surround sound amps they suck, go for this instead you won't be disappointed.
Excellent Sound Quality And Built To Last
This is my first Marantz amplifier and I can genuinely say I am delighted with it's performance. Now saving for new speakers!
Top Quality Sound And Bargain Price
Thanks Denon for making a no-frills, great sounding amp for well below £200 - sounds superb with my B&W 685 speakers.
Music Just Sounds Great With NAC 202
I've added the NAC202 to my NAP250 with Ovator S400 speakers recently, a large improvement in transparency of sound over my previous Cyrus pre.
Awesome Power Amp
I upgraded from a Cyrus 8vs power amp, and the improvement in sound quality is really impressive.