Loudspeakers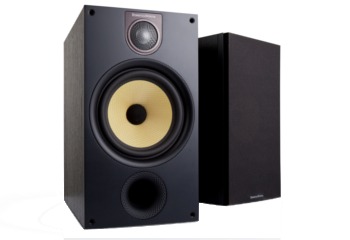 The HifiGear showroom is home to a huge range of loudspeakers, from the likes of Bowers & Wilkins, DALI, KEF, ProAc and Martin Logan, ranging from compact bookshelf speakers and satellites, all the way to larger, room-filling floorstanders and electrostatics.
Speakers are the most aesthetically impacting aspect of any home cinema or hifi system, and can therefore quite often be one of the most difficult decisions to make when building a system. Finding the balance between design/appearance, sound and budget can be a phenomenally tricky process, and if you're not the only person who may be looking at or listening to these speakers, then this decision is made even more difficult by potentially conflicting opinions/priorities.
Loudspeakers are also one of the most sound-altering elements to a hifi system, and picking the right speakers for your ear is vital. That is why we recommend getting in to one of our demonstration rooms before making a large purchase, to ensure that a speaker isn't too bright, or too warm, or too open, or too closed for your preferred taste or music collection. It'll also help to visually see the speakers in a homely setting, and envisage how they might look in your home or listening environment.
We have a multitude of different speaker brands, series, models and finishes on show at our premises in King Street, Hereford. Whatever your budget, lifestyle or sound preference, we're here to help you make the right choice. We have two demonstration rooms, a wide range of electronics, and helpful, knowledgeable staff.
Latest reviews for
Loudspeakers
Average Rating :
Total Reviews:5
They Sound As Good As They Look
Great clarity and range even at low volumes Fantastic styling Blown away how such tiny speakers can sound so good. Delivery from hifi gear was prompt and I even got a text to tell me the time it was going to arrive
Superb Quality And Price
There are already countless of professional reviews on the A7 on the internet. I really can't add to them. I was a little nervous of buying a re-certified product at first, but now I have it I am extremely happy. The quality is faultless and I'm comforted that B&W have given it thorough review before allowing it for re-sale. Apart from the different box it is as good as brand new. But better than that it is almost two hundred pounder cheaper that the RRP. It really is a great bargain. The A7 sounds huge and has fantastic power and clarity. The set up (via the app) took minutes and was so simple. I love everything about it. The icing on the cake was the great service by HiFi Gear. A totally flawless transaction. Can't recommend this product and HiFi Gear enough.
Summary Of Your Review B&w Cm 10
They sound awesome my denon 4520 avr really brings them to life
Just Taken Delivery Of CM10's In Gloss Black
Really happy with large scale sound quality, build and looks of the new CM10, my Naim Supernait drives them to perfection.
Lovely Looks And Top Quality Build And Sound
My friends reaction to my new A5 was OMG, I'm so jealous! The sound quality of the A5 is every bit as good as I'd hoped, and the quality feel and build justifies the price. Fast delivery from Hifi Gear.