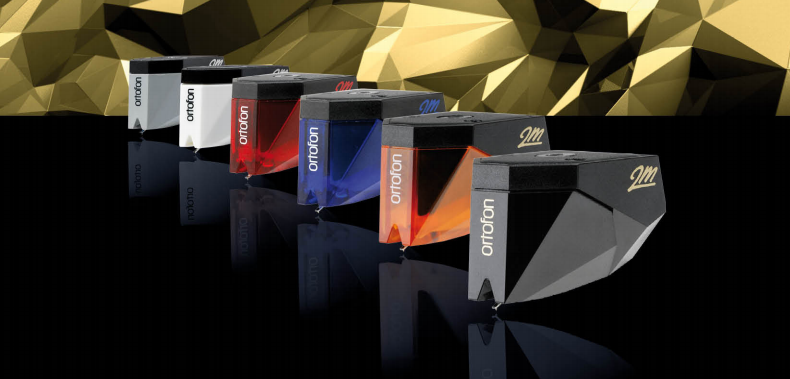 Ortofon are a Danish manufacturer of high quality phono cartridges, designed to get the very most out of your vinyl collection from a variety of price points. Ortofon cartridges, both Moving Magnet and Moving Coil configuration are commonly found supplied with high quality ProJect turntable models, but Ortofon cartridges sound exceptional with any compatible turntable.
Ortofon's 2M Series of cartridges are highly renowned and are often considered to be some of the best value for money moving magnet cartridges on the market today.
Ortofon's 2M Series makes use of their signature 'split pole pins. This configuration allows for the moving magnets to perform with a flat frequency response, similar to that of a moving coil cartridge while retaining a much more comfortable price-point. The 2M 78, 2M Red, 2M Bronze and 2M Black make use of an enhanced engine, allowing for a greater level of detail and accuracy across the frequency spectrum. The higher-end models in the series, the 2M Bronze and 2M Black are built from Lexan DMX Piano Black which is an intuitive material with a high rigidity, resulting in a further reduction in unwanted resonance.
The 2M Series  cartridges are designed to be compatible with the majority of turntables on the market today, with the cartridge bodies being streamlined to offer an easier mounting and alignment process. Each 2M cartridge makes use of diamond styli, the 2M Red featuring a tipped Elliptical diamond and the 2M Blue featuring a Nude Elliptical diamond. The Bronze, however, makes use of a Nude Fine Line diamond stylus, making it a more suitable solution for discerning analogue enthusiasts.
The 2M Series was engineered with help from Danish designer Moeller Jensen Design. Inspired by the edges of a diamond and the way that these facets retrieve information from deep within the grooves of a vinyl record, the shell of the 2M range visually compliments the tiny diamond at the end of the stylus.