This installation was carried out in a beautiful, modern barn conversion with exposed oak beams, clean white walls and a polished concrete floor. The main requirement for this installation was not only for the system to sound fantastic but also for it to look at home in this stunning, minimalistic cinema room.
The project started with a visit to the property, to meet the owner and discuss possible options to meet their requirements and budget. The decision was made to purchase a Projector, which would show an image on an adjacent white wall so that the room would still look pristine even when an image isn't being shown.
The award-winning Epson EH-TW7400 4K Projector was chosen due to its beautiful, vivid 4K image, quiet operation and its useful electronic lens-shift function, allowing the screen to be made perfectly central in the room, while the Projector was tucked away neatly at the back of the room.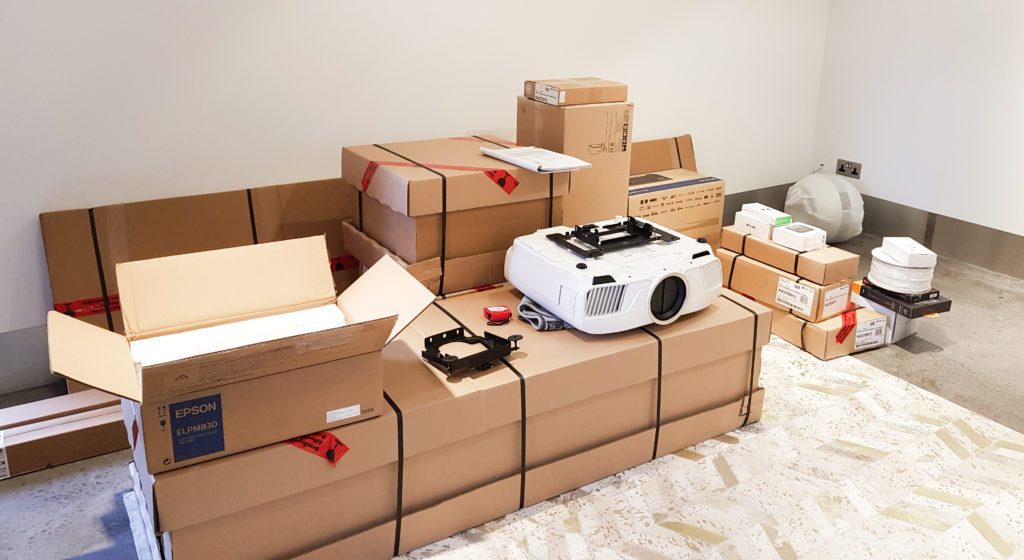 Our first day of installation was spent measuring, to ensure the projector and speakers were perfectly placed. After careful measurements, we mounted the projector to the ceiling. Using Epson's low-profile ceiling mount and white facia, allowing the projector to be mounted discreetly at the back of the room with minimal disruption.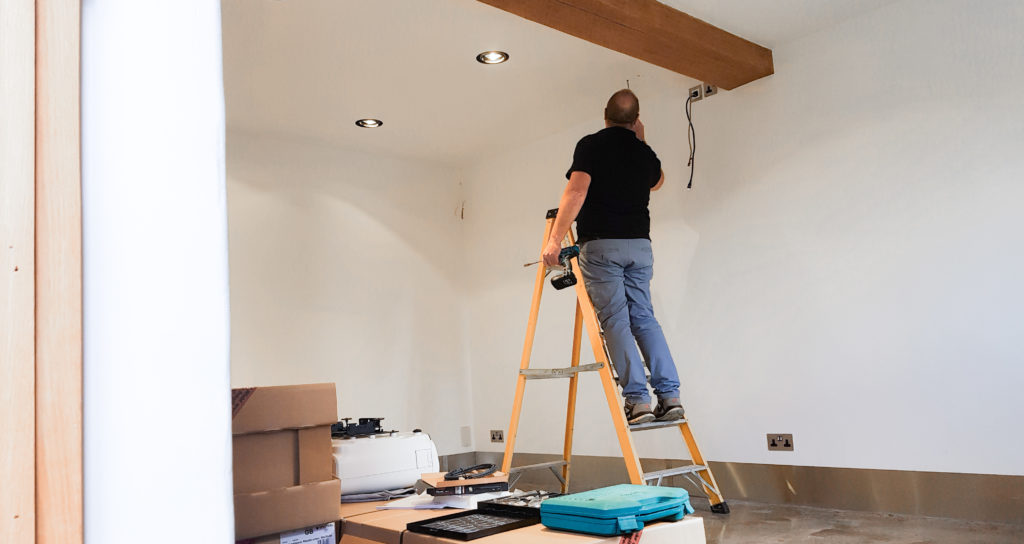 We then installed the four, wall mounted Bowers & Wilkins M1 Satellite Speakers. These compact speakers were perfect for the clean aesthetic seen throughout the property. Not only do they look great and fit in perfectly with the room, but they also benefit from sounding fantastic, especially considering their size. Delivering clear and concise vocals, while having enough power to make you jump out of your seat in action-filled movie scenes.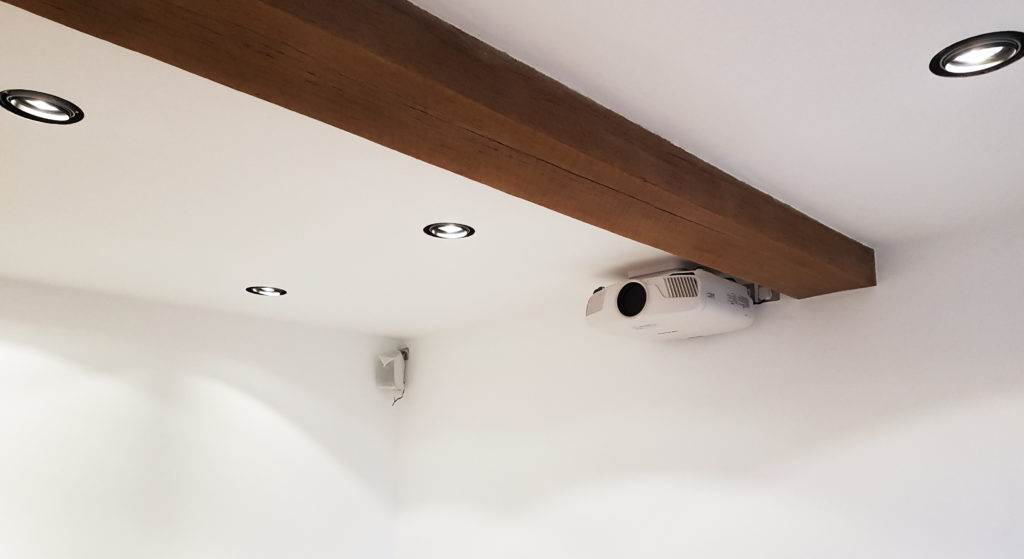 The customer decided to purchase an elegant solution to hide their unsightly cables and equipment, in the form of a beautiful, high gloss white AV stand from Spectral. This stand was custom-built to the customer's specification, to be the perfect size, shape and colour for the room while offering storage and cable management for the electronics, centre speaker and media.
This Spectral 'Next' AV Cabinet was built on the second installation day. After a couple of hours, the build was complete, with a gloss white top panel and cabinet doors, acoustically transparent black cloth cover and aluminium feet.
Next came the unboxing and set-up of the rest of the equipment. Starting with the heart of the system, the Denon AVR-X4500H. This powerful yet refined AV receiver is perfect for both music and movies, with enough power to drive all five speakers exceptionally well.
This AV Receiver was connected to a variety of sources, including; an Apple TV 4K, an Xbox, Playstation and a Sonos Connect for music streaming, which will easily integrate with the existing Sonos products found throughout the property.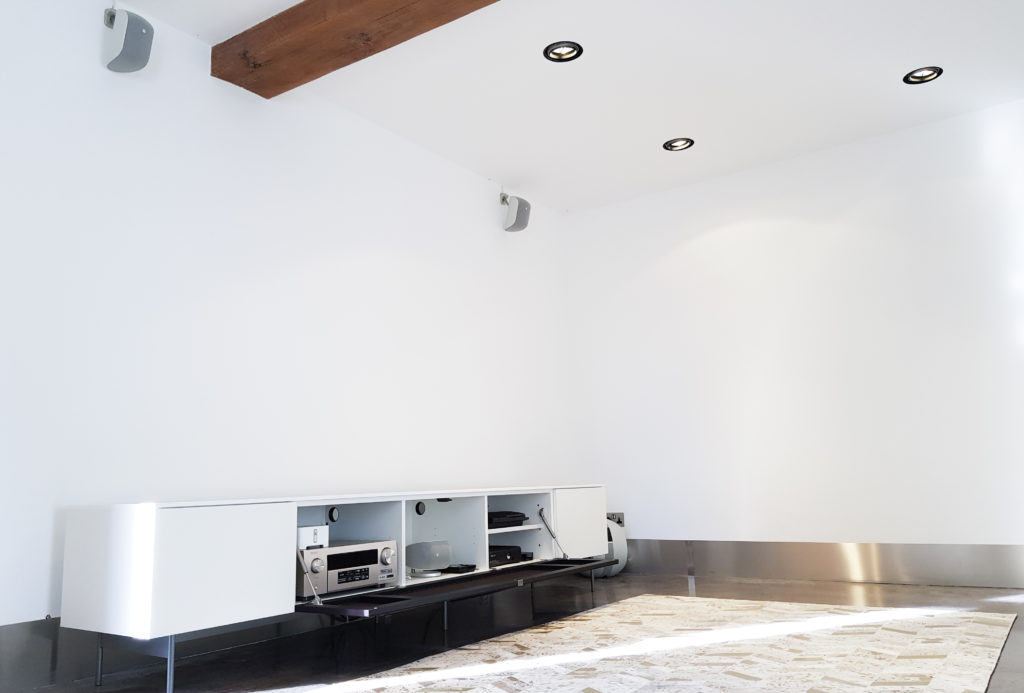 The AV Reciever was then set-up and calibrated using the built-in Audyssey room correction software to achieve the best sound possible in the room.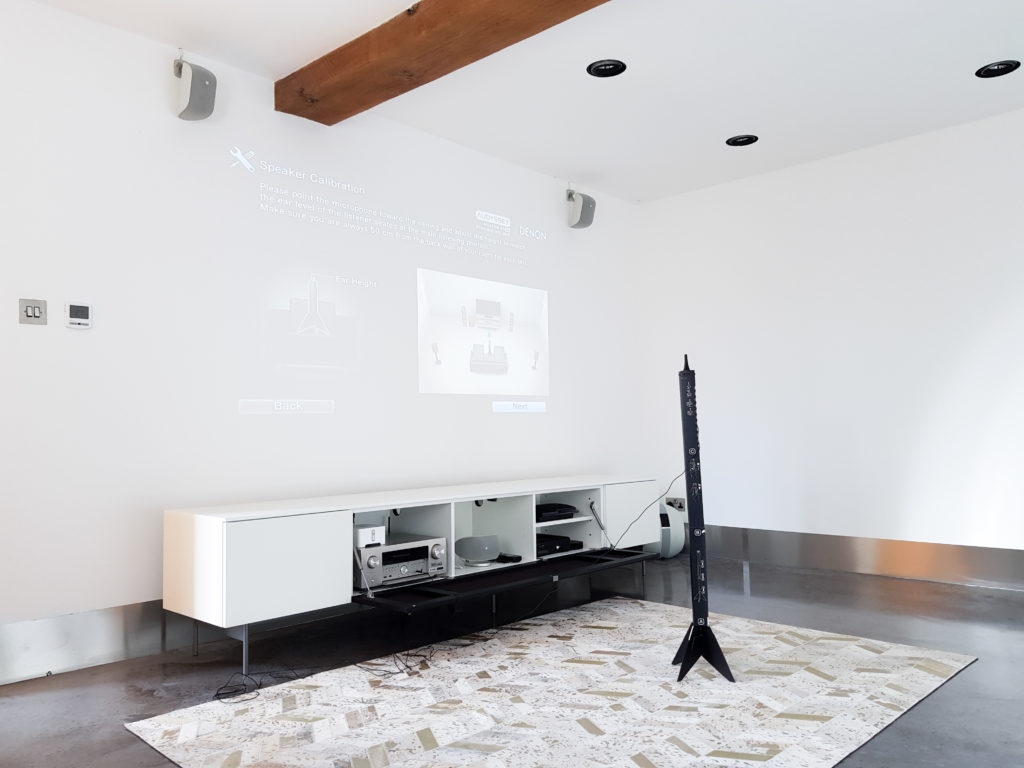 The complete cinema room installation can be seen below, without furniture;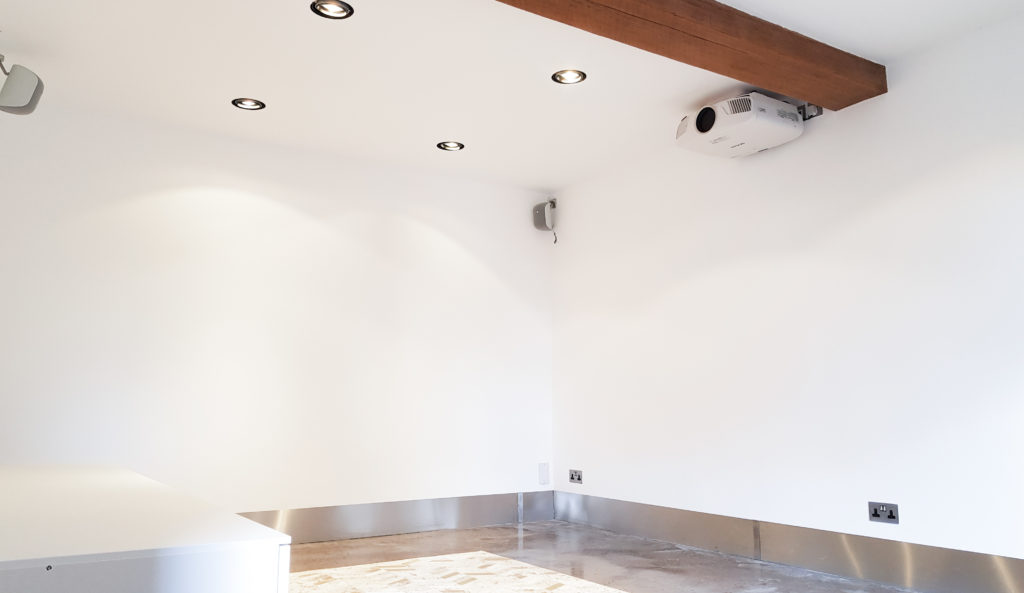 To enquire about your own custom installation project, please visit us at 11 King Street, Hereford, HR4 9BW or call us on 01432 354921. For further details please see our Custom Installations page below;
www.hifigear.co.uk/custom-installations
Installation Kit List
Epson EH-TW7400 4K Projector
Denon AVR X4500H AV Reciever
Bowers & Wilkins M1 Sattelite Speakers
Bowers & Wilkins PV1D Subwoofer
Custom Made Spectral Next AV Cabinet