Hifi Gear's Guide To Sonos?
It's been a good 6 years since we've last did a blog about Sonos, not too much has changed over the course of those years, only with mobile app tweaks, newly announced products and revamped designs for cetain products. You will see the usage of the Play:3 used in this blog post, please note that yes, it has now been discontinued, but there still is a wide audience that still uses this product so it has been used in some examples.
Maybe you've seen it on the TV, in a magazine or just caught a glimpse of it in a store or at a friend's house, and now you're looking to find out a little more as to what Sonos exactly is and what it offers.
So what is Sonos? Sonos is a wireless music streaming system ideal for filling the whole house with the music you love.
You could start with just one room or, even a home cinema room thanks to the Sonos Playbar, and build the system up around the house over time, or you can set a few rooms up at once. Sonos is such a flexible system, you can add to it at any time and can have up to 32 Sonos devices in one system. Once you have one Sonos device and find out how easy it is to use, you'll probably soon want more.
So let's explain a few basics of the system, and then cover how to set up your Sonos system so you can enjoy the music you love around your home.
Sonos make several devices to suit many needs for all sorts of home and business audio requirements. Let's quickly go over these.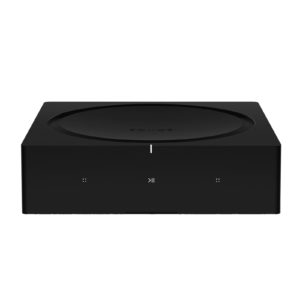 The Sonos Amp is perfect for connecting speakers directly to your Sonos network, this can be ideal if you already have a set of speakers that you love, maybe you are looking to simplify or cut down the size of your hifi system in the lounge, or simply just setting up a new system. Another great idea for the Sonos Amp is to connect ceiling speakers for the ultimate discrete music system. We'll show you some great setup ideas regarding this further down.
The Sonos Amp has an RCA (red and white phono) connection on the rear to enable you to connect a device such as a CD player if you wished. It also has a Subwoofer out, which if connected, the Amp will detect and automatically adjust the output to send the low frequencies to the subwoofer and the high frequencies to the speaker. You should not connect speakers rated at less than 4 Ohms.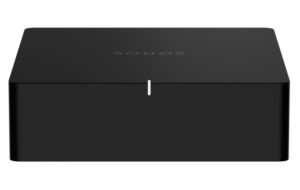 The Sonos Port is ideal if you already have a hifi system or amplifier and want to add the Sonos capability to this system. This could be a full 2 channel system, new or old, or maybe you have an AV Receiver or mini system you simply want to use Sonos through. In terms of connectivity, the Sonos Port has RCA Phono input and output as well as Digital Coaxial and Digital Optical outputs making it compatible with many different amplifiers.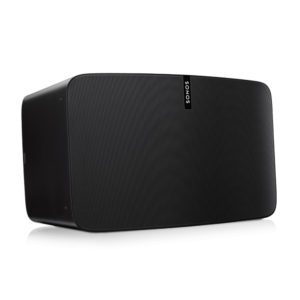 The Sonos Play:5 is an all in one wireless speaker. The Play:5 is ideal for a larger room if you are after a discrete system with great sound. It has 5 speakers powered by 5 dedicated digital amps which include two tweeters, two 3" mid-range drivers and a 3.5" woofer The Play:5 also has a headphone out and a 3.5mm Aux input on the rear.
Sonos Play:3 (Discontined)
The Sonos Play:3 is similar to the larger Play:5, it too is an all in one wireless speaker, but being smaller it has 3 speakers powered by 3 dedicated digital amps. The Play:3 has the flexibility to be positioned vertically or horizontally and the software will automatically adjust the sound to ensure the best performance. The Play:3 is a great addition to the dining room, study or even the bedroom.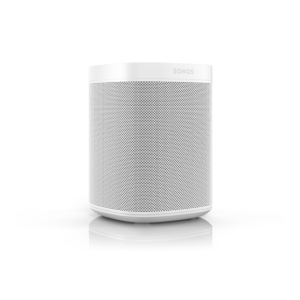 The Sonos One Gen 2 is the newest addition to the Sonos family. It may be small but don't let that fool you, this small speaker packs a real punch! Much like the larger Play:3 and Play:5 speakers the Sonos One is also an all in one wireless speaker. The Sonos One features two Class D digital amplifiers to power the tweeter and 3.5" mid-woofer. The tweeter ensures crisp accurate high frequencies while the mid-woofer produces accurate vocals and instrumental playback as well as a deep rich bass. The Sonos One is ideal for the kitchen or conservatory thanks to its unique design making it humidity proof. It is also perfectly suited to an office thanks to its small size.
The Sonos Playbar is also quite a new addition to the Sonos family. The Playbar moves Sonos into a whole new area of home entertainment. You guessed it, TV and Movies. With a simple digital optical connection its super simple, as you would expect from Sonos, to hook up to your TV and start to enjoy your favourite movies and TV shows with great sound. The Playbar features 9 speakers, all powered by 9 individual Class-D digital amplifiers, tuned specifically for Playbars speakers and design. The Playbar will instantly improve the sound from your TV, providing clear detail in quieter moments of speech for example along with deep bass when needed and of course fantastic sound for your favourite music tracks as it also supports all the music streaming of the other Sonos family. The Playbars design also offers several options when it comes to placement, you could stand it in front of the TV or lie it down, or mount it to the wall with the Playbar Wall Bracket. The Playbar will automatically self-adjust for rich seamless performance.
The Sonos Sub is a truly great design. Featuring two force cancelling speakers positioned opposite each other for a deeper rich bass but with no cabinet rattle or buzz. The Sonos Sub can be added to many parts of a Sonos setup around the home. The most obvious option would be the Playbar, especially for that evening enjoying your favourite movie, truly immersing you into action with the Playbar and Sub setup. You could of course add a sub to a Sonos One Gen 2 , Play:3 or Play:5 setup. Any of speakers you add a Sonos Sub to, the Sonos system will automatically detect this and adjust the sounds accordingly, meaning the speakers can focus of the high and mid-range while the sub provides all the deep bass to bring the system to life.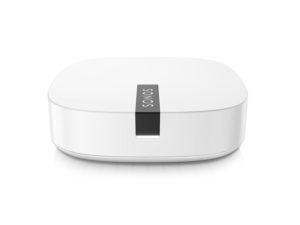 Setting up a new Sonos system, or struggling to get your Sonos network to reach those out of reach rooms in your home then you need a Sonos Boost. The Sonos Boost offers up to twice the range of the Sonos Bridge. It has many uses within a Sonos setup. The Boost can be connected directly to your router to create the dedicated Sonos network.
The Boost offers comparable broadcast strength to expensive enterprise-grade routers more commonly found in commercial setups. With three wireless antennae that broadcast 360-degree signals through walls and ceilings for maximum coverage and superb reliability even to the most remote room in your home.
In larger properties or older properties with thick walls etc, you can also use Boost to extend your dedicated Sonos network to give that extra 'boost' where needed. Boost also neutralizes interference caused by other wireless devices around the house than wreak havoc on your networks, such as cordless phones, baby monitors and other household appliances. This becomes more important by the day with so many of our everyday devices coming with wireless options today.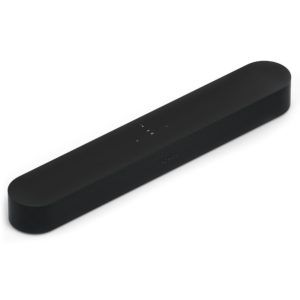 The Sonos Beam is the latest multiroom speaker from Sonos. Designed to easily connect with your existing TV via HDMI and offer the latest voice operation with both Alexa & Siri (Via Airplay 2) this little box will soon become the hub of many front rooms.
With the all-new Sonos Beam, listen to your favourite music, TV, movies and more in rich, detailed sound. Easy voice control allows you to turn it up without taking your eyes off the action or taking your hands off the game controller. And at a compact 25.6 inches, it won't block the TV or overwhelm your space.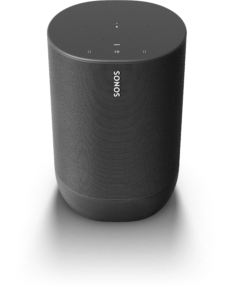 Get Sonos' signature sound on the move, now being weatherproof and drop resistant, this speaker is more than perfect for the outdoors. You can control the move through the Sonos App or with your voice. You can directly stream Bluetooth whenever your Wifi isn't available. Experience surprisingly deep bass with a wide soundscape whilst the automatic Trueplay tuning balances the sound depending on where you are and what you're doing. The built-in microphone will detect what you're playing and then environment around you, then automatically adjusts to optimise the sound. Sonos has designed a custom woofer that will provide you with powerful and rich bass for outdoor listening. Have up to 10 hours of constant battery life for your journeys, it fits seamlessly into the included charging base and features an ergonomic handle, making it easy to pick up and carry.
Stereo Pairing
In addition to the details above of each Sonos device an additional setup fact you might not know is the Sonos One Gen 2, Play:3 and Play:5 can be setup as a stereo pair, e.g. you could have two Sonos Play:3 in the dining room setup as a stereo pair resulting in a truer stereo reproduction of the music you love.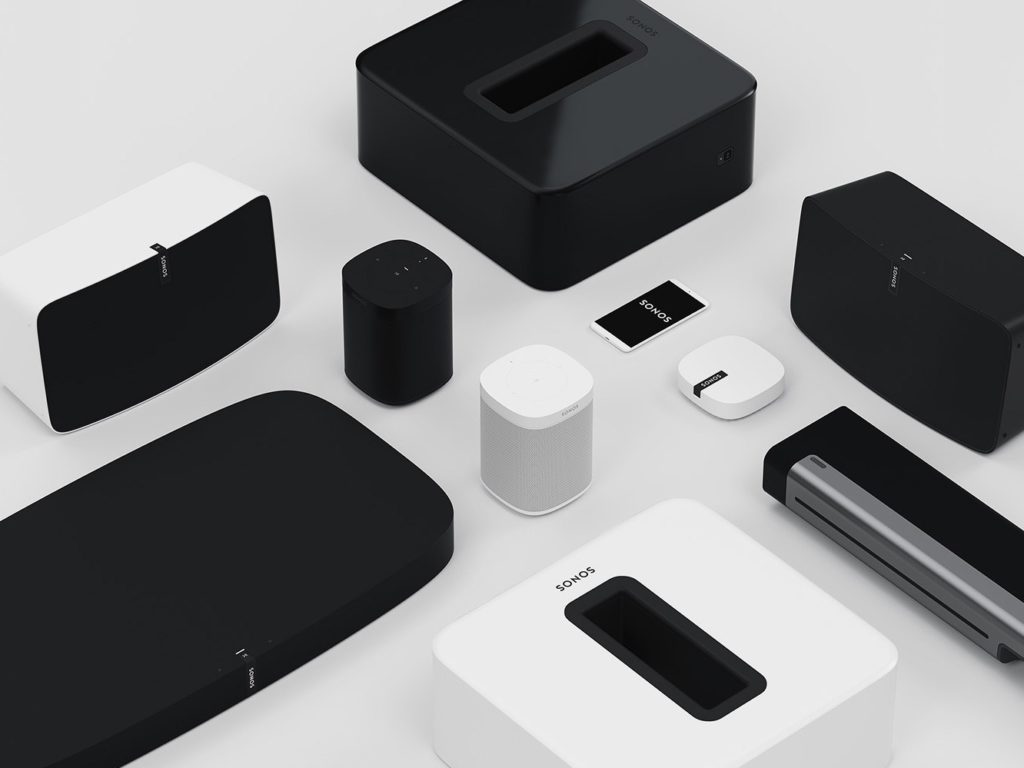 You can also add to a Sonos Playbar with the Sonos Sub as mentioned above, but you can also add Sonos One Gen 2 or Play:3 as rear surround speakers. It's a very simple step to add these rear speakers for the Playbar and will make enjoying your movies an even better experience.
We will be writing another blog in the near future covering the setup of a Sonos system but let's cover some basics here.
You require a broadband connection for a Sonos system to work and at least one of the Sonos devices needs an Ethernet connection direct to the router. Every Sonos device has an Ethernet port on the back so can accept this connection, however if your music is to be enjoyed in another room to your router you can use the Sonos Bridge which is mentioned above to create the network for the other Sonos devices to talk back to wirelessly.
If your house is wired with Ethernet in more than one room around the house and you want to connect Ethernet cables into more than one Sonos device or even all of them, this is possible and can offer you a better connection back to the router. A setup with Ethernet to all Sonos devices or even just more than one is not such a common setup due to the layouts of most houses resulting in this sometimes being a difficult task to achieve but this is why the SonosNet is such a clever system.
The SonosNet compared to a standard Wi-Fi setup can push the signal further from each device. Basically if you have a Sonos Play:3 in the office next to your router with a direct Ethernet connection, creating the SonosNet, you could then have a Play:5 in the lounge and a Sonos One Gen 2 in the conservatory both talking wirelessly. Now the clever part, if the Sonos One Gen 2 was too far away to see the signal from the Play:3 it would see that that Play:5 is in between them and talk directly to that one to pass the signal back to the Play:3 which again is connected to the router, completing the loop. Each Sonos device transmits the SonosNet signal and this aids larger properties. The system is clever enough to work out the lowest number of hops back to the router however. So in the same situation if the Sonos One Gen 2 was actually close enough to the Play:3 it would talk direct to it rather than through the Play:5 as this would result in a quicker data transmission to the device with the Ethernet connection to the router.
With all the talk about how you can connect a Sonos system you might be thinking can I use home plugs to Ethernet into more than one Sonos device. Essentially, you can, however it isn't a fully recommended or suggested setup solution. The reason for this is you can get varied results from home to home. Many companies produce home plugs now and some work better than others but also the wiring within a house can very different from home to home and because of this you can't just assume this would work as a solution.
What can I play through my Sonos system?
So with some basic setup details covered what sort of music can you access from Sonos?
If you have lots of your own music already, then it's easy to play this through the Sonos System. It doesn't matter if your music is stored on a PC/Mac/iPhone/Android device. You can stream direct from all of these devices to the Sonos system. If all of your music is stored on a PC your best bet would be to get a NAS (Network Access Drive) setup onto your network. You can get NAS drives in many sizes, so plenty of room for all the tracks you have and more space for the future. The benefit to using a NAS when streaming your own music to a Sonos system is you don't need to power it down; it can be on the network ready to play at any time. Of course when not in use most NAS drives have an eco-power saving mode built in.
If you want to play radio through the Sonos this is possible via 'Tune In' radio which is supported via Sonos. With this you can access thousands of radio stations from all around the world, and the plus side is you don't suffer any of the fuzziness when you don't have enough signal as it is using your broadband signal instead.
Other options for listening to music through your Sonos are to stream from many of the other services supported by Sonos. The most popular of these services are Spotify, Last.FM, Deezer, Aupeo!, Qobuz, Napster, Amazon Cloud Player and many more
These streaming services all have many different benefits on offer. The newest addition is Google Play Music which has just been added to the Sonos supported services, Qobuz is also a new addition offering high quality music playback. You can also use 'The Hype Machine', added earlier this year to discover new tracks trending on blogs.
Along with all these services currently supported by Sonos, they are always working on adding further services so this list can grow.
Controlling Sonos
You can control Sonos in many ways. A free to download app is available from the App Store for Apple iPhone and iPad, also on the Play Store you can get a Sonos Control app for Android devices and a version is also available for PC and MAC. All are of a similar design to make it easy to jump from one to another and if you start the music playing from one device you can change it from another device no problem as the system always updates each controller.
Hopefully now you have a little more knowledge of what Sonos is, keep an eye out for our blog on setting up Sonos, to be added soon.